Carpet cleaning Derby, Rug cleaning Derby, Derbyshire Carpet cleaning, Derbyshire Rug Cleaning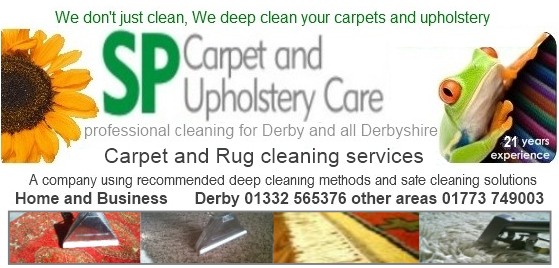 Derby carpet and Rug cleaning service
Rug and oriental carpet cleaning by S.P.carpet and upholstery care for Derby Nottingham and surrounding areas. Our specialist rug services means we can clean your rugs to the highest possible standards, we can clean your rugs in situ at your home or we can take your rugs away for that really thorough deep cleaning process. In our workshop we can give your rugs that extra special attention that will remove more deeply embedded grit and soiling and clean to the base of the rugs fibres. For rugs with water sensitive fibres we can carry out our specialist dry cleaning processes. All of our specialist cleaning systems will leave your rugs looking revitalised bright and clean again, Chinese, Indian, Turkish, Iranian and Oriental carpet and rug cleaning.

Our off site cleaning process
1. Thorough pre vacuum inc beater process to remove ingrained dust and grit, this process is repeated on both sides of the rug.
2. Hand treatment of spots and staining, pet stains are treated to kill bacteria and odour.
3. Pilate the carpet fibres and pre-treat with bio-degradable crystallising cleaning agent which is worked into the fibres by hand.
4. Re vacuum removing loose soiling encapsulated in crystals.
5. Pre spray with PH neutral cleaning agents and rinse extract with high power cleaning machine removing deep down soiling.
6. Re-align the rugs pile and turbo dry.
7. Inspect and repeat cleaning process, apply post treatment protection or inhibitors (if necessary).
8. vacuum thoroughly and return rug to client

also see our fitted carpet and upholstery cleaning services
We clean all types including modern and traditional rugs, Oriental, Chinese, Turkish, Berber, Iranian, Silk,Cotton, Wool, Synthetic
We collect from your home and deliver back to you at your convenience.











www.derbyshirecarpetcare.co.uk
nottinghamcarpetcare.co.uk

Derbyshire rug cleaning, Nottinghamshire rug cleaning, Oriental rug cleaning, Chinese rug, indian rug, turkish rug, Derby and Nottingham Rug cleaning services< carpet cleaning in Derby, carpet cleaning in Nottingham, Stain protection, scotchguard, Rug repairs, carpet and rug cleaners in Nottingham,Derby carpet and rug cleaners, carpet cleaning derby